Green Shell Media supplied SoluRoot with an entire digital presence. Providing a platform to reach the world.


Who?
SoluRoot are a startup looking to link together companies that are starting projects with the best developers and designers to get the work done.
With a backlog of developers on their records looking for work. SoluRoot came to Green Shell Media, ready to show the world who they are and what they can do.
What?
Green Shell Media gave SoluRoot the entire package. From gathering the requirements, helping mould their vision, and creating a website crafted from HTML within an IIS host.
How?
Green Shell Media's designers crafted a home page worthy of SoluRoot. Providing two images and slogans alongside SoluRoot to enforce the company's image and perception.


After the front page design was approved. Green Shell Media worked with SoluRoots previously created images to provide a home for their text based content. Devising a way to structure their process into a marketable service dubbed 'the four step process'

Green Shell Media then worked with the SoluRoot stakeholders to come up with the rest of the text for the front page, as well as strategizing a way to market and sell each one of their products individually.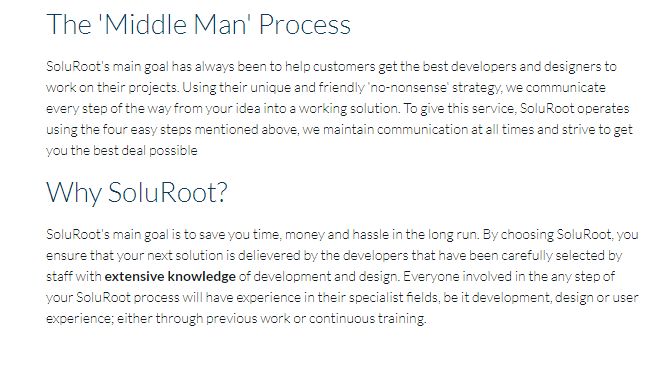 Did We Help?
Since developing the website, SoluRoot have continued to sign clients, and have signed a service contract, giving Green Shell Media first dibs on any future work on a rolling 6 month contract.